Ja, hvorfor skulle man undvære dét, hvis man har mælkallegi?
Man kan jo bare lave det af sojamælk og kakao.
I aftes besluttede jeg mig derfor for at dreje mig en kop kakao med den der lækre "flødeskums"fornemmelse, som os mælkeallergikere kan have en aaaanelse svært ved at opleve.
Så derfor nappede jeg et stort krus, smed noget sojamælk med vanille i, hældte det i en gryde, tilsatte 1½ spsk ren kakao og 1-1½ spsk sukker. Normalt er forholdet 1:2 hvad angår sukker og kakao, men da marshmallows er søde ad h…. til i sig selv, måtte jeg nok hellere lade være, tænkte jeg..Ingen grund til at give min bugspytkirtel sukkerchok lige før sengetid. Det giver mareridt har jeg hørt……..
NÅ, koge koge koge kakaoen og da den var varm nok, hældte jeg den over de 5-6 marshmallows jeg havde puttet i koppen.
Det giver altså en syret fornemmelse – og synet er ikke videre kønt efter nogle minutter… og de skulle egentlig nok have været klippet over i små stykker. Men pyt! Nu har jeg prøvet det 🙂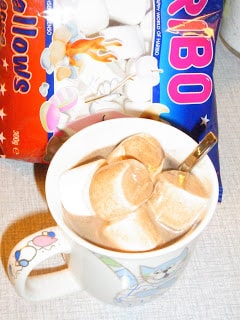 Hot chocolate with marshmallows!
Today I decided to go for the chocolate diet – hot cocoa with marshmallows.
I wanted that "creamy" feeling of hot cocoa with whipped cream you're not quite fond of when you're suffering from lactose intolerance…
So I put the soya milk in the pot, added 1-1½ tablespoon of raw cocoa and 1-1½ tbsp. of sugar and let it warm up slowly. Normally the relationship between cocoa and sugar is 1:2, but with the marshmallows being terrible sweet, I thought I had better keep the sugar level down, so as not to shock my system too much 😉
When the hot chocolate was ready, I poured it over the awaiting marshmallows and let it melt into a sweet, delicious after dinner drink. I think the marshmallows were too big to really melt in time, and the taste was a little too much on the sweet side, but as a first timer like this, I'm quite happy with the result 😉